Amazon Pantry ₹1 Deals
Amazon Pantry ₹1 Deals (Today's Collection + 5 Deal)
---
Amazon Pantry ₹1 Deals – Hi Guys, Amazon Pantry is Rolling Over In More & More Cities And Amazon is Offering Few Pantry Grocery Products In Just ₹1 Today. We Have Already Seen Many ₹1 Loots Here In coolzTricks , Here comes Another Today From Amazon.
I Have Collected Few Pantry Deals In Amazon Deal Of The Day Section. This Deals Are Available In Just ₹1 For Limited Period Of Time. I Have Mentioned 5+ Amazon ₹1 Pantry Deals Today.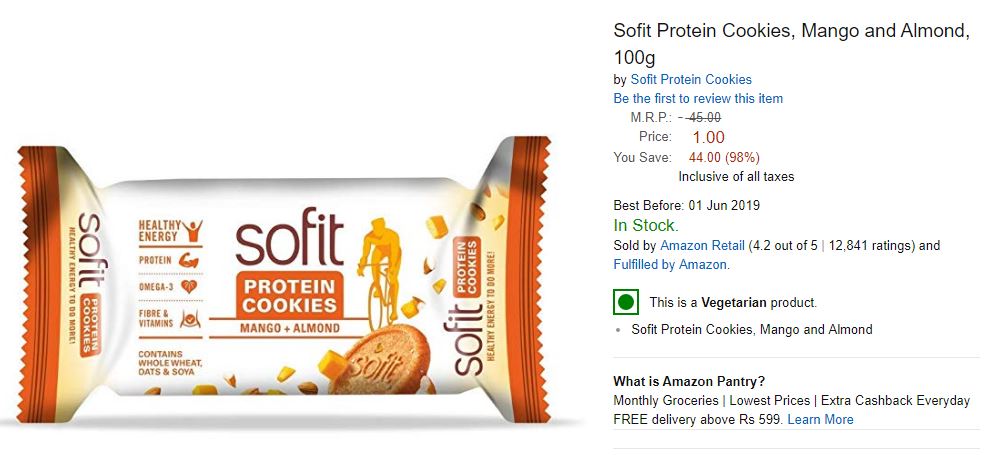 Do Remember , This Deals Are Only Available For Pantry Eligible Cities & Not For All Users. So Amazon Pantry Users , Don't Miss This Loot.
---
Amazon Pantry ₹1 Deals – Today's Collection
Amazon ₹1 Pantry Loot | 12th September 2020
Enchanteur Romantic Body Lotion 30ml @ Just ₹1
More Pantry Deals From ₹1 – Click Here
Mumbai , Gujarat Available | Check In Your PIN
---
Amazon ₹1 Pantry Loot | 14th July 2020
Enchanteur Romantic Body Lotion 30ml @ Just ₹1
Buy With More Pantry Deals With Less Shipping – Deals
---
Amazon ₹1 Pantry Loot | 4th Feb 2020
Master Link Of All Pantry Loot Deals
Sunfeast Wonderz Nutshake, Kesar Badam, 200ml @ Just ₹1
Sunfeast Wonderz Fruit n Milk, Mango 200ml @ Just ₹1
---
Amazon ₹1 Pantry Loot | fifth December 2019
Master Link Of All Pantry Loot Deals
Kohinoor Mumbai Pav Bhaji Masala, 15g @ Just ₹1
Horlicks Protein+ Sachet Chocolate 30g @ Just ₹1
Godrej Expert Easy 5 Minute Hair Colour Sachet @ Just ₹1
---
Amazon ₹1 Pantry Loot | 24th October 2019
Godrej Expert Easy 5 Minute Hair Colour Sachet – Natural Black, 20ml @ Just ₹1
Dabur Meswak Toothpaste – 50 g @ Just ₹1
Sugarlite Smart Sugar, 100g @ Just ₹1
Surf Excel Matic Liquid Front Load Sachet, 60 ml @ Just ₹1
Colgate Swarna Vedshakti Toothpaste – 21gm / 25gm @ Just ₹1
---
Amazon ₹1 Pantry Loot For Today (Great Indian Sale)
Master Link: CLICK HERE
Vanish oxi Action Stain Remover Powder – 25 g @1
Colgate Swarna Vedshakti Toothpaste – 21gm / 25gm @Rs 1
Pedigree Adult Dog Food Combo Meal, Dry and Gravy, 180g@ Rs 1
Godrej Protekt Mr. Magic Powder-to-Liquid Handwash Refill, (makes 200ml) @ Just Rs 1
Fairever Next Glow Cream, 15g@ Just ₹1
Dabur Meswak Toothpaste – 50 g @ Just ₹1
Sunfeast Yippee Mood Masala Noodles Single Pack, 70g in Rs.1
Amazon Pantry 80% Off Loot – Great Indian Sale Pantry Master Link
HealthCare Products – from Just Rs.5
---
Amazon ₹1 Pantry Loot (Great Indian Sale)
Cinthol 2-in-1 Shaving Cream + Face Wash @ Just ₹1
Tata Sampann Garam Masala, 45g @ Just ₹11
Kohinoor Garam Masala-E -Khaas, 40g @ Just ₹11
Amazon Pantry 80% Off Loot – Great Indian Sale Pantry Master Link
---
Amazon ₹1 Pantry Loot For Today (2nd September)
Pril Dishwash Kraft 50 ml Pouch @ Just ₹1
Tata Fruski Mango PET Bottle, 200ml @ Just ₹11
Amazon Pantry 80% Off – Starts From Just ₹9
---
Amazon Freedom Sale – Pantry Loot For Today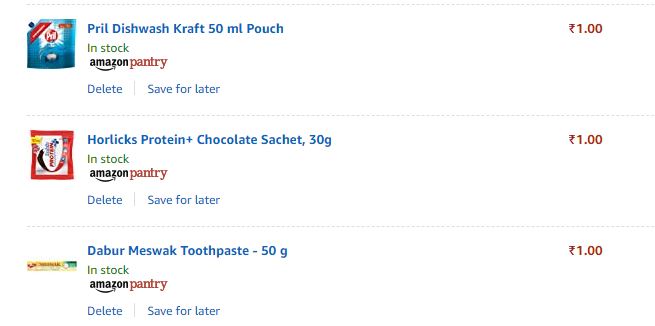 Dabur Meswak Toothpaste – 50 g @ ₹1
Horlicks Protein+ Chocolate Sachet, 30g @ ₹1
Pril Dishwash Kraft 50 ml Pouch @ ₹1
---
Amazon Freedom Sale Day 4 Pantry Loot
Horlicks Protein+ Chocolate Sachet, 30g @ Just ₹1
Tata Fruski Orange PET Bottle, 200ml @ Just ₹1
Amazon Pantry 80% Off – Link
---
Amazon Freedom Sale Day 3 Pantry Loot
Kohinoor Kashmiri Meat Masala, 15g @ Just ₹1
Amazon Pantry 80% Off – Link
---
Amazon Freedom Sale Day 2 Pantry Loot
Horlicks Protein+ Chocolate Sachet, 30g Horlicks Protein+ Chocolate Sachet, 30g ! Just ₹1
Kohinoor Kashmiri Meat Masala, 15g @ Just ₹1
---
Amazon Freedom Sale Pantry Loot
₹1 Pantry Products – Link
27th July 80% Off Pantry Link –
Amazon Pantry 80% Off – Link
---
16th July Prime Day ₹1 Deals –
Masterlink Of All Pantry Deals – View Here
Nature Fresh Actiheart Blended Oil Pouch, 200ml @ Just ₹1
PediaSure Health & Nutrition Drink Powder for Kids Growth – 200g (Cookies & Cream) @ Just ₹1
Nimyle Herbal Floor Cleaner – 475 ml @ Just ₹1 [Available in Banglore]
Sunfeast Farmlite Digestive All Good, 100g @ Just ₹1
---
15th July Prime Day ₹1 Deals –
Godrej Aer Pocket Bathroom Fragrance – 10 g (Morning Misty Meadows) @ Just ₹1
Tata Sampann Besan, 500g @ Just ₹1
Tata Fruski Orange PET Bottle, 200ml @ Just ₹1
Sugarlite Smart Sugar, 100g @ Just ₹1
Masterlink Of All Pantry loot Deals – Click Here
---
11th July ₹1 Deals –
Vivel Body Wash @ Just ₹1 – Buy Here
More Pantry Products @ Amazing Price
Min 50% Off On Pantry Daily Use Items – Deals From Just ₹15
---
29th June Deals –
Pantry Products From Just ₹15 + 50% On Almost All Products – Link
---
01th June Deals –
Kohinoor Punjabi Butter Chicken Masala, 15g @ Just ₹1
Kohinoor Kashimiri meat Masala , 15g @ Just ₹1
Amazon Super Value Days – Grocery Deals
---
27th May Deals –
Today's Pantry Deal @ Flat 50% Off – Start From Just ₹7 – Grab Now
---
seventh May Deals –
KingFisher Radler Ginger Lime Non Alcoholic Malt Drink Can, 300ml In Just ₹1
Hershey's Chocolate Syrup Sachet, 32g In Just ₹1
KingFisher Radler Mint Lime Non Alcoholic Malt Drink Can, 300ml In Just ₹1
+ More Pantry Cheap Deals @ Master Link
---
14th April Deals –
Hershey's Milk Shake, Chocolate, 200ml In Just ₹1
Nyle Anti-Dandruff Shampoo, 90ml In Just ₹1
+ More Pantry Cheap Deals @ Lowest Price
---
07th April Deals –
Hershey's Milk Shake, Chocolate, 200ml In Just ₹1
Fairever Next Glow Cream, 15g In Just ₹1
Nyle Anti-Dandruff Shampoo, 90ml In Just ₹1
+ More Pantry Cheap Deals @ Lowest Price
---
16th March Deals –
Fairever Next Glow Cream, 15g In Just ₹1
Flat 50% Off On Shampoo (Sunsilk , VLCC, Setwet)
---
4th March Deals –
Deal 1 – Fairever Next Glow Cream, 15g Worth Rs.60 In Just ₹1
Deal 2 – Amazon Brand – Presto! Hygienic Flush Tabs, Aqua Fresh-50 g(Pack of 2) In Just ₹1
+ More Amazon Pantry Deals @ Crazy Price – View Here
third March Deals –
Deal 1 – Fairever Next Glow Cream, 15g Worth Rs.60 In Just ₹1
Deal 2 – Bauli Spyroll, 37g Worth ₹15 In Just ₹1
Deal 3 – Tata Sampann Garam Masala, 45g Worth ₹45 In Just ₹1
Deal 4 – Mcvities Doublee Orange Creams, 100g Just ₹1
Deal 5 – Sofit Protein Cookies, Mango and Almond, 100g Worth ₹45 In Just ₹1
2. Now Just Add Every Product Into Your Amazon Cart
3. Sign in Or Signup Into Your Amazon Account
4. Checkout With Any Available Payment Options
5. For Faster Checkout You Can Pay Using Amazon Pay Balance Too
6. Enjoy !! Amazon Pantry ₹1 Loots
7. Bookmark This Post To Get All Amazon Pantry Loots at one Place
8. Have Any Loots In Mind ? Comment Down Below
Thanks Again
Don't Miss This Too :-
Amazon Recharge Offers 2019 – Upto 100% Cashback
Amazon Cashload Offer – Get Free Rs.400 On Adding Money
Amazon UPI Offers – Get Free Rs.50 Cashback On Everything
Amazon Jio Recharge Offer – Get ₹500 Cashback On 149+ Recharge