Flipkart Big Shopping Days are back! Been a long time since Diwali and there has not been a Big Sale from Amazon/Flipkart. Well, Flipkart is back to break the dull season with its Big Shopping Days Sale which kicks off from 7th Dec and is for a total of 3 days till 9th Dec. The Sale from flipkart is going to be big as the name suggests with almost all categories on awesome discounts.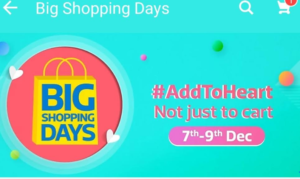 Also, there would be 10% instant extra discount with SBI Cards. Needless to say, there would be some special sections of deals – Crazy Deals | Grab or Gone Deals.
Get ready to witness this shopping extravaganza wih us. We will be here to help you find all the best loot offers from the sale so that you get maximum savings.
Handpicked Deals and Offers
Master offers
1 . Great discounts on Smartphones. Check our guide on buying best smartphone here (Link will be added soon)
2. Electronics & Accessories upto 60% off. Offers like 50% off on Gaming Laptop
3. Get 50% to 80% off on branded fashion items + extra 15% off on Rs 3000
4. Get upto 70% off on top branded TVs and Appliances
5. Grab flat 40%-80% discount on Home & Kitchen Items
6. Beauty, Sports, Books & Toys upto 80% off
Master Deals (Single Product Suggestions- Handpicked by us for you)
Recently Added Deals. However, do not miss to check all the deals posted category wise. All of them are live. We are constantly removing the expired deals.
1 . Aristocrat ACCESS DUFFLE 52 RED 20 inch/51 cm Travel Duffel Bag (Red, Black) Rs 1300 585
2. Laptop Stickers at Rs 99 only
3. Chef's Aprons at Rs 99 only
4. Hindware F160027CP Faucet (Wall Mount Installation Type) Rs 630 249
5, Visko Premium Combination Screwdriver Set (Pack of 6) Rs 399 89
6. Voltaa #SELFY Cable Selfie Stick (Green) Rs 389 99
7. Huggies Wonder Pants Large Size Diapers – L  (48 Pieces) at Rs 419
8. Adata HV620 2.5 inch 2 TB External Hard Drive  (Black) Rs 2999
9. D-Link DIR-600M Wireless N150 Home Router at Rs 699
10. SSP Men's Brief  (Pack of 5) at Rs 148
11. Rock ITP-105 10000 mAh Power Bank  (White, Lithium-ion) at Rs 499
12. Fifa Laptop Bagpack at upto 84% Off
13. Krapal Women's Kurtis upto 90% off
14 . Maharaja Whiteline Turbomix HB-100 350 W Hand Blender Rs.1199 599
15 . Philips 7 W Globe B22 LED Bulb(Pack of 6) Rs.1290 499
16 . Milton Medical Box – 2500 ml Plastic Utility Box  (White) Rs.220 169
17 . Leo Natura Eco 2 L, 3 L, 5 L Pressure Cooker  (Aluminium) Rs.1600 1049
18 . Panasonic ER207WK44B Trimmer For Men Rs.1895 1099
19. Rock ITP-502 20000 mAh Power Bank (White, Lithium Polymer) Worth Rs. 2599 at just Rs. 899
20. Microtek EM4170+ (170v to 270v+-5v) Voltage Stabilizer (for AC Upto 1.5 Ton) (White) Worth Rs. 2940 at Rs. 1449 at 50% off
21. Microsoft Core M 6th Gen – (4 GB/128 GB SSD/Windows 10 Pro) Pro 4 2 in 1 Laptop (12.3 inch, SIlver, 0.78 kg)  Worth Rs. 77,390 at Rs. 49,990
1 .Honor 6 Plus (Black, 32 GB)  (3 GB RAM) worth Rs.26499 at Rs.11,999
2. LG V20a (Titan, 64 GB) (4 GB RAM) at Rs 24990 only (MRP – Rs 60000)
3.  Moto G5 Plus (Lunar Grey, 32 GB) (4 GB RAM) Rs 16999 10999
4.  Mi A1 Smartphone Rs 14999 12999
5. LeEco Le 2 (Grey, 32 GB) (3 GB RAM) Rs 11499 7999
6. Smartron srt.phone (Titanium Gray, 32 GB)  (4 GB RAM) (Extra Rs 6000 discount)
8. Honor 5X (Gold, 16 GB)  (2 GB RAM) worth Rs.12,999 at Rs.7,999
9. Asus Zenfone 3 Laser (Silver, 32 GB)  (4 GB RAM) worth Rs.19,999 at Rs.9,999
Home & Kitchen
3.Nanki Trades Coloured Candles upto 66%
4. Syska 4 Feet 22Watt LED Tube Batten Straight Linear LED Tube Light  worth Rs.2700 Rs at 699
5. Nova NKT-2726 Electric Kettle  (1.5 L, Black) worth Rs.1995 at Rs.649
6. Home Furnishing Minimum 75% Off Starting at Rs 149
7. Foster Power Tools upto 57%
8. Prestige Delight PRWO – 1.0 Electric Rice Cooker (1 L, White) Rs 1839 999
9. Pigeon Shiny Electric Kettle (1.5 L, Silver, Black) Rs 800 599
10. Pigeon Mop Set Rs 1395 699
11.  Bean Bag covers at upto 80% off starting at Rs. 299
12.  Eveready AP322 Portable Room Air Purifier (Gold) Rs.16,995 7999
13. Branded Hand Tools & Hardware at Minimum 90% Off
14. Milton Desire Junior Pack of 3 Casserole Set (500 ml, 1000 ml, 1500 ml) Rs.799 449
15.  Shoe Racks and Cabinets upto 80% off starting from Rs. 296
Other Miscellaneous Deals
4. Flipkart SmartBuy Trimmer for Men  (Black, Green) at Rs 299
6 . Healthgenie Wrist Brace with Thumb Support Rs.998 217
7 . Star X AA Roller Ab Exerciser  (Blue, Black) Rs.900 232
8. Dr. Morepen BP-11 Bp Monitor (Blue, White) Rs 3299 899
9. Eveready MG500i 500 W Mixer Grinder (White, 3 Jars) Rs 2995 1275
10. Syska HT800 Trimmer For Men (Black, Silver) Rs 1699 829
12. Mobile Cases and Covers at Rs 99 only
13. MuscleTech Whey Proteins at 40% off
14. Mee Mee Baby Strollers and Prams at 50% off
15. Toy House Baby High Chair-Bear (Beige) Rs 4499 1574
16. Academic Books at minimum 50% off
17. Casio Watches at flat 50% off
18. Sirius Toys Rainbow Wheel Finger Fidget Spinner (Multicolor) Rs 1299 99
19. Adata HV620 2.5 inch 2 TB External Hard Drive  (Black) Rs 2999
20. DIZIONARIO MEEE961213 3x Magnifier with Fake Note Detector worth Rs.598 at Rs.149
How to get the best offers from Flipkart Big Shopping Days?
1 . Download Flipkart app from here – Android | iOS | Windows or you can also use desktop website – here.
2. Next step is as simple as ABC. All you need to is bookmark this post and keep checking it for regular updates. You will be able to find Flipkart Big Shopping Days offers list on OnlineDealTrick.
3. Now visit this post at 12 AM on 7th December 2017 when the sale begins. We will start adding the best deals and loots in this post.
4. Just click on the links provided and add to cart the product you want to purchase
5. Login/Sign up to your Flipkart account and enter your address and payment details
6. You can make the payment using SBI Cards to get 10% instant discount over and above existing discounts.
Enjoy flipkart big shopping days 2017
Sneak Peak of Flipkart Big Shopping Days

Mi A1 (One of best selling phones) Rs 14999 12999
If you are looking for a high end phone but with a budget of less than 20k in hand, this is one of the best device you can get. It has MRP of Rs 14,999 and now will be available at just Rs 12,999 in Big Shopping Days of flipkart + you will also get 10% instant discount with SBI.

Google Pixel 2 (Best Android Phone) starting from just Rs 39999
If you are someone who does not look anywhere less than perfection, this device has been made for you and that too, by Google. This starts from a price tag of Rs 61000 but Flipkart is mentioning price of Rs 39,999. We will have to wait and watch if this includes exchange offer or not. If the price of Rs 39,999 is without exchange, this is the bets deal you can get!

What will be the offers in the Flipkart Big Shopping Days 2017?
There would be a lot of offers and deals in this sale and below, we have tried to categories the offers under certain heads. Check them out
1 . Discounts of 80-90% on some products will be offered under crazy deals section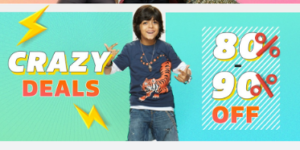 The crazy deals section of Flipkart has always remained as the most popular one. In the first edition of the event, there were even deals at Re 1. There won't most likely be discounts of 99% etc. but up to 90% is what Flipkart plans to lure customers.
2. Grab or Gone Deals (Limited Period Deals)


Grab or Gone is a section of deals which are bound to be claimed very fast due to their extraordinary prices. Therefore, you either grab them in time or they are gone. Stay tuned with us not to miss such awesome offers.
3. 10% instant discount via SBI Cards

These kinds of massive sales often have a bank partner which provides 10-15% discount extra on your shopping cart amount. Flipkart has partnered with State Bank of India (SBI) for Big Shopping Days to give you extra 10% off on your purchases during this epic sale. The terms and conditions of this offer are however awaited.
4. Super Discounts among all categories
Whenever a sale comes, you are excited because you can buy everything you want to buy with extra savings. Yes, this will be true as Flipkart will be giving massive offers on all the categories on its platform.
5. Special Features for seamless shopping experience
In addition to deals and discounts, Flipkart has also planned to make the experience delightful for you and will be offering numerous features such as –

Debit Card EMIs
BuyBack Guarantee
Buy Now, Pay Later
No Cost EMIs
6. Launch of Redmi 5A – Desh ka Smartphone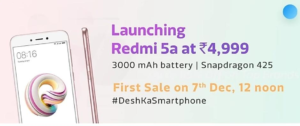 As you know that Redmi India is launching Desh ka Smartphone i.e. Redmi 5A, a very powerful Android device at just Rs 4999. The Sale will go live at 12 noon on 7th December. Be ready to grab this in time.
We have made our best efforts to try include all useful information that you need to know and get prepared for this upcoming sale on Flipkart. However, please let us know if you have any queries in the comments section below. Do not miss to bookmark this post as we will be adding all best deals and offers in this post when the Sale starts.