Flipkart Big Shopping Days are back! Been a long time since Diwali and there has not been a Big Sale from Amazon/Flipkart. Well, Flipkart is back to break the dull season with its Big Shopping Days Sale which kicks off from 7th Dec and is for a total of 3 days till 9th Dec. The Sale from flipkart is going to be big as the name suggests with almost all categories on awesome discounts.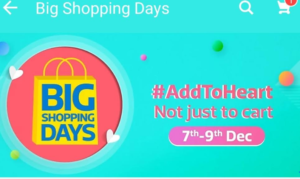 Also, there would be 10% instant extra discount with SBI Cards. Needless to say, there would be some special sections of deals – Crazy Deals | Grab or Gone Deals.
Get ready to witness this shopping extravaganza wih us. We will be here to help you find all the best loot offers from the sale so that you get maximum savings.
Flipkart Big Shopping Days Deals
Handpicked Deals and Offers
Master offers
1 . Great discounts on Smartphones. Check our guide on buying best smartphone here (Link will be added soon)
2. Electronics & Accessories upto 60% off. Offers like 50% off on Gaming Laptop
3. Get 50% to 80% off on branded fashion items + extra 15% off on Rs 3000
4. Get upto 70% off on top branded TVs and Appliances
5. Grab flat 40%-80% discount on Home & Kitchen Items
6. Beauty, Sports, Books & Toys upto 80% off
Master Deals (Single Product Suggestions- Handpicked by Dealnloot for you)
1 . Safari Suitcases at flat 72% discount
3. Godrej 190 L Direct Cool Single Door Refrigerator (Jasmine Brown, RD EDGE PRO 190 PDS 3.2) Rs 18390 11499
4. Provogue, Newport Sneakers and Sandals at 80% off
6. Mi A1 Smartphone Rs 14999 12999
7. Gaming Laptops upto 50% off
9. Micromax 1.5 Ton 5 Star Split AC – White (ACS18ED5AS02WHI, Aluminium Condenser) Rs 39999 20499
10. LG 255 L Frost Free Double Door Refrigerator (Shiny Steel, GL-Q282RPZY)Rs 2719019999
11. Asus Zenphone Laser Rs 19999 9999
12. Ambrane P-1133 12500 mAh Power Bank (Blue, Lithium-ion) Rs 2199 699
13. iVoltaa Cables at Rs 69 only
14. Dr. Morepen BP-11 Bp Monitor (Blue, White) Rs 3299 899
15. Moto G5 Plus (Lunar Grey, 32 GB) (4 GB RAM) Rs 16999 10999
16. Sony MDR-XB450BV Wired Headphone (Black, On the Ear) Rs 5990 1999
17. Eveready MG500i 500 W Mixer Grinder (White, 3 Jars) Rs 2995 1275
18. Rock ITP-105 10000 mAh Power Bank (Black, Lithium-ion) Rs 1799 399
19. UCB Clothing for Men & Women at 84% off
20. Branded Men's Bootomwear at flat 70% off
21. Syska HT800 Trimmer For Men (Black, Silver) Rs 1699 829
22. Raymond Blankets at 60% off (Starting Rs 679)
24. Harry Potter and the Cursed Child – Parts I and II (Hardcover, J. K. Rowling) Rs 899 169
25. Best Branded Women Clothing at 70% off
26. Skullcandy S5LHZ-J569 Anti Headphone (Royal Navy, On the Ear)#OnlyOnFlipkartRs 1999 699
27. Flipkart SmartBuy 39LR64UGW Emergency Lights (Red) Rs 1399 749
28. boAt Rugby Portable Bluetooth Mobile/Tablet Speaker (Black, 2.1 Channel) Rs 39901399
29. Libas Women Kurtas at 75% off
30. SteelSeries Rival 95 Wired Optical Gaming Mouse (USB, Black) Rs 3499 999
31. Wall Stickers at just Rs 69
32. Rayban Sunglasses at 50% off
33. Smartbuy Bedsheets at 85% off
34. Smartbuy Curtains at flat 82% off (Discount reduced to 69%)
35. Samsung 80cm (32 inch) HD Ready LED TV (32J4003) Rs 28900 16999
36. Billion 1100 W Non-stick Extra-power XR112 Dry Iron (White and Sky Blue) Rs 1099399
37. Panasonic 109cm (43 inch) Full HD LED Smart TV (TH-43ES480DX) Rs 55900 29999
38. Branded Cookware upto 74% off
39. Flipkart SmartBuy 3W Portable Bluetooth Speaker (Black, Mono Channel)#OnlyOnFlipkart Rs 1249 699
40. Kook n Keech Women Clothing at 81% off
41. LeEco Le 2 (Grey, 32 GB) (3 GB RAM) Rs 11499 7999
42. Billion 1000 W Non-stick Compact XR127 Dry Iron (White and Sky Blue)#OnlyOnFlipkart Rs 999 299
43. Mobile Cases and Covers at Rs 99 only
44. Personal Appliances upto 50% off
45. MuscleTech Whey Proteins at 43% off
46. Mee Mee Baby Strollers and Prams at 50% off
47. Health Sense Blue-Orbit PS 139 Personal Weighing Scale (Black) Rs 2360 649
48. Prestige Delight PRWO – 1.0 Electric Rice Cooker (1 L, White) Rs 1839 999
49. Motorola Pulse 2 Headset with Mic (Black, Over the Ear) Rs 1599 599
50. Sony CP-AD2 /CP-AD2/BC Mobile Charger (Black) Rs 990 399
51. Toy House Baby High Chair-Bear (Beige) Rs 4499 1574
52. Logitech MK 220 Desktop Wireless Laptop Keyboard (Black) Rs 1795 999
53. Academic Books at minimum 50% off
54. Casio Watches at flat 50% off
55. Sirius Toys Rainbow Wheel Finger Fidget Spinner (Multicolor) Rs 1299 99
56. Pigeon Shiny Electric Kettle (1.5 L, Silver, Black) Rs 800 599
57. Pigeon Mop Set Rs 1395 599
58. Extra Large Wallpaper Stickers at just Rs 149
59. Black & Decker TS1000 Grill, Toast at Rs 999
60. Harry Potter and the Cursed Child – Parts I and II  at Rs 98
61.
How to get the best offers from Flipkart Big Shopping Days?
1 . Download Flipkart app from here – Android | iOS | Windows or you can also use desktop website – here.
2. Next step is as simple as ABC. All you need to is bookmark this post and keep checking it for regular updates. You will be able to find Flipkart Big Shopping Days offers list on dealnloot.
3. Now visit this post at 12 AM on 7th December 2017 when the sale begins. We will start adding the best deals and loots in this post.
4. Just click on the links provided and add to cart the product you want to purchase
5. Login/Sign up to your Flipkart account and enter your address and payment details
6. You can make the payment using SBI Cards to get 10% instant discount over and above existing discounts.
Enjoy flipkart big shopping days 2017
Sneak Peak of Flipkart Big Shopping Days

Mi A1 (One of best selling phones) Rs 14999 12999
If you are looking for a high end phone but with a budget of less than 20k in hand, this is one of the best device you can get. It has MRP of Rs 14,999 and now will be available at just Rs 12,999 in Big Shopping Days of flipkart + you will also get 10% instant discount with SBI.

Google Pixel 2 (Best Android Phone) starting from just Rs 39999
If you are someone who does not look anywhere less than perfection, this device has been made for you and that too, by Google. This starts from a price tag of Rs 61000 but Flipkart is mentioning price of Rs 39,999. We will have to wait and watch if this includes exchange offer or not. If the price of Rs 39,999 is without exchange, this is the bets deal you can get!

What will be the offers in the Flipkart Big Shopping Days 2017?
There would be a lot of offers and deals in this sale and below, we have tried to categories the offers under certain heads. Check them out
1 . Discounts of 80-90% on some products will be offered under crazy deals section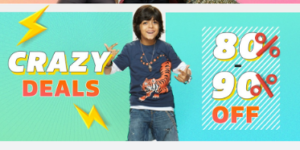 The crazy deals section of Flipkart has always remained as the most popular one. In the first edition of the event, there were even deals at Re 1. There won't most likely be discounts of 99% etc. but up to 90% is what Flipkart plans to lure customers.
2. Grab or Gone Deals (Limited Period Deals)


Grab or Gone is a section of deals which are bound to be claimed very fast due to their extraordinary prices. Therefore, you either grab them in time or they are gone. Stay tuned with us not to miss such awesome offers.
3. 10% instant discount via SBI Cards

These kinds of massive sales often have a bank partner which provides 10-15% discount extra on your shopping cart amount. Flipkart has partnered with State Bank of India (SBI) for Big Shopping Days to give you extra 10% off on your purchases during this epic sale. The terms and conditions of this offer are however awaited.
4. Super Discounts among all categories
Whenever a sale comes, you are excited because you can buy everything you want to buy with extra savings. Yes, this will be true as Flipkart will be giving massive offers on all the categories on its platform.
5. Special Features for seamless shopping experience
In addition to deals and discounts, Flipkart has also planned to make the experience delightful for you and will be offering numerous features such as –

Debit Card EMIs
BuyBack Guarantee
Buy Now, Pay Later
No Cost EMIs
6. Launch of Redmi 5A – Desh ka Smartphone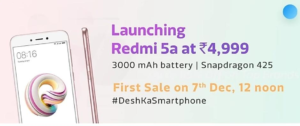 As you know that Redmi India is launching Desh ka Smartphone i.e. Redmi 5A, a very powerful Android device at just Rs 4999. The Sale will go live at 12 noon on 7th December. Be ready to grab this in time.
We have made our best efforts to try include all useful information that you need to know and get prepared for this upcoming sale on Flipkart. However, please let us know if you have any queries in the comments section below. Do not miss to bookmark this post as we will be adding all best deals and offers in this post when the Sale starts.