Big Bazaar Great Exchange Offer 2020
Big Bazaar Exchange Offer – Exchange Your Old Clothes , Newspaper For Great Price
---
Big Bazaar Great Exchange Offer 2020, Big Bazaar Great Exchange Offer 2020 Dates – Hi Guys, Hope You Guys Are Enjoying Our Free Recharge Related Offers & Free PayTM Cash Related Offers. Here comes Big Bazaar Again With New Exchange Offer In 2020.
Every Year, Apart From FBB Free Shopping Weekend & Big Bazaar Free Jeans Day , Big Bazaar Organize The Exchange Offer In Which You Can Exchange Your Old Clothes , Newspapers , Old TV , Refrigerator , Washing Machine and many others. With Great Exchange Rate.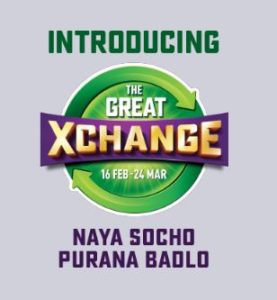 This Year Big Bazaar Again Started The Big Bazaar:The Great Exchange Offer & This Time They Are Offering Free Pick Up Service Too In Some Specific Cities. Means You Have To Do is Just Register The Pickup & They Will Collect Your Old Stuff.
---
Big Bazaar Exchange Offer 2019 Details :
Dates : 12th February 2020 until 10th March 2020
Coupon Redemption– 12th February 2020 until 10th March 2020
Coupons Valid On – Big Bazaar shops, choose Big Bazaar Gen-Nxt Stores, Hypercity shops and choose Food Bazaar shops
---
Big Bazaar Exchange Offer – How To Register & Exchange
1, Big Bazaar Exchange Offer is Live In Almost All Big Bazaar Stores
You can Register For Free Pickup Service From Here
2. You Can Also calculate Your Exchange Value From This Link (I've Attached The List Of Products & Its Value)
3. Now If Pickup Service is Not Available, Then Just Visit Your Nearest Big Bazaar Store With Your Old Products You Want to Exchange Between 11th February 2020 until 15th March 2020
4. Big Bazaar Staff Will Calculate Exchange Value For Your Old Stuff
5. Then You Will Be Provided With Xchange Coupon For Your Stuff
6. Exchange Coupon is Usable at all Big Bazaar, choose Big Bazaar Gen-Nxt, choose Food Bazaar and choose Hypercity shops Between 11th February 2020 to 15th March 2019
7. You Can Purchase Anything From Store With Your Coupon
8. So Don't Hold Your Old Products , Simply Exchange Them & Get New Products From Big Bazaar
---
Big Bazaar Exchange Value For Old Products :
Old Newspaper – ₹50/kg
Old Clothes (Including Bedsheet ,Towels, comfortable toys, Mens Jacket) – ₹100/kg
Old TV – ₹5000/Piece
Old Refrigerator – ₹5000/Piece
Old AC – ₹5000/Piece
Old Washing Machine – ₹3000/Piece
Old Computer/Laptop – ₹4000/Piece
Old Microwave/Oven/OTG – ₹3000/Piece
Old Mobile Phones – ₹5000/Piece
Old Electronics/Small Appliances – ₹1000/Piece
Old Bed – ₹3000/Piece
Old Sofa – ₹1000/Piece
Old Furniture – ₹100/kg
Old Utensils – ₹300/kg
Old Plastics – ₹100/kg
Gas Stove – ₹500/Piece
carpet – ₹500/Piece
Doormat – ₹50/Piece
Old Mattress – ₹1000/Piece
Pillow – ₹50/Piece
Old Luggage – ₹200/Piece
---
More Details Of This Big Bazaar Exchange Offer
"The Great Xchange Program" is relevant from 11th February 2020 until 15th March 2020 (inclusive each days) (hereinafter known as "Xchange Period
Xchange Coupon issuance is from 11th February 2020 until 15th March 2020 & Coupon Redemption is from 11th February 2020 until 15th March 2020
Xchange coupon will likely be issued throughout Xchange Period in any respect Big Bazaar shops, choose Big Bazaar Gen-Nxt Stores, Hypercity shops and choose Food Bazaar shops
Redemption of Xchange Coupons will likely be legitimate solely throughout Xchange interval in any respect Big Bazaar, choose Big Bazaar Gen-Nxt, choose Food Bazaar and choose Hypercity shops
Value of junk/scrap will likely be points solely within the type of Xchange Coupons
Once scrap is exchanged for Xchange coupons, buyer can't reclaim scrap underneath any circumstances
No money/credit score observe/Gift Voucher/ different mode of cost shall be issued in alternate of junk/ scrap/ outdated merchandise. Xchange coupons are non- transferable and can't be exchanged in lieu of Cash/ Cheque/ GV or another mode
Old merchandise to be exchanged will need to have resale worth. Future Retail Limited (FRL) and/or consultant at its personal discretion reject/ settle for junk/scrap from prospects at choose shops and determine the worth of junk/ scrap and the worth Xchange coupons. No dispute or correspondence on this regard shall be entertained.
The buyer should be certain that s/he receives a Weight Measurement Coupon (hereinafter known as "WMC") with duly crammed in particulars like their title & cell/ phone no., kind & amount of junk, Xchange worth of junk, retailer stamp, employees title & signature and date in alternate of scrap submitted
Customer should be certain that the WMC is preserved fastidiously for assortment of Xchange coupons. FRL shall not be accountable in case of any harm, loss, put on and tear, and many others. to the WMC and can end in not issuing Xchange coupons in lieu of mentioned WMC by FRL.
Photocopies of WMC shall not be accepted for issuance of Xchange Coupons
Xchange coupons shall be redeemed in full; partial redemption isn't allowed
Xchange coupon can't be clubbed with another voucher/coupon. No two vouchers may be clubbed collectively
No two affords may be clubbed collectively
FRL might choose up junk from the placement of buyer at its sole discretion and no dispute on this regard shall be entertained by FRL
Upon miss name from buyer, IVR name again/ SMS from Company/ FRL might get delayed as a consequence of community error/ subject