Quiz time once again in Amazon. Answer basic questions and stand a chance to win OnePlus 5T this time.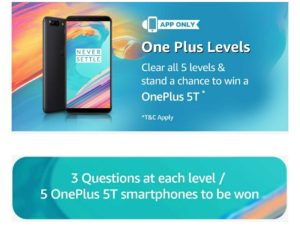 There are a total of 5 levels in this contest of 17th Novemeber with each level having 3 questions related to performance, power etc. of Oneplus 5T device. On answering all correctly, you get chance to win either a Oneplus Bullet earphones or Oneplus 5T phone for free. We have also added answers to all 15 questions below for today's contest. Check them out.
How to win OnePlus 5T? :
1 . Download Amazon App from here
2. Open the app and you will see a banner about the Amazon Oneplus Levels Contest. Click on it.
3. Now click on the 'Start' button to begin the quiz.


4. You will now see a set of 3 questions about OnePlus 5T in each level.

Level 1 Answers
Q1. Which of these is a new feature in the Oneplus 5T?
Answer : AMOLED 18:9 Display
Q2. OnePlus 5T offers a larger viewing experience compared to OnePlus 5, at a similar form factor. What is the display screen size of the OnePlus 5T?
Answer : 6.01 inch
Q3.  A pixel is the base element in measuring display resolution. The term 'Pixel' is short form for which of these?
Answer : Picture Element
Level 2 – Photography
Q1. What are the primary dual camera specifications on the OnePlus 5T?
Ans – 16 MP + 20 MP
Q2. Which of these is NOT a setting that can be fine tuned on OnePlus 5T's manual mode?
Ans – Lever
Q3. Which of these is NOT associated with a format pictures are saved in digitally?
Ans – Sunshine
Level 3 – Performance
Q1. OnePlus 5T is powered by which processor?
Ans – Snapdragon 835
Q2. What are the RAM variants that the OnePlus 5T is available in?
Ans – 6 GB/8GB
Q3. What does ROM stand for with regards to the internal memory of a smartphone?
Ans – Read Only Memory
Level 4 – Power
Q1. With Dash charge, how long does it take to get a day's power on the OnePlus 5T?
Ans – Half and hour
Q2. What is the battery capacity of the OnePlus 5T?
Ans – 3300 mAh
Q3. Which of these is NOT a type of battery?
Ans – Pima Colada
Level 5 – Access
Q1. Amazon Prime members will enjoy early access to the sale of OnePlus 5T. When does this sale begin?
Ans – 4:30 PM, 21st November 2017
Q2. Which of these phrases is associated with OnePlus?
Ans – Never Settle
Q3. Which of these OnePlus phones was not launched on Amazon.in?
Ans – Oneplus 11
5. After answering all 15 questions correctly, you will get a Congratulations message that you have been entered into a lucky draw. Now keep your fingers crossed and wait for the results to be announced by 10th December.

Terms and conditions :
This Contest will commence on 17th November 2017 from 12:00:01 a.m. (IST) to 11:59:00 p.m. (IST) ("Contest Period")
In order to be eligible for the Contest, during the Contest Period you must sign-in to or sign-up from an account on the Amazon.in App ("Amazon.in App").
Once you have signed-in to the Amazon.in App, you can participate by navigating to the page where 15 (fifteen) questions will be posted during the entire Contest Period.
Thereafter, if you answer all the quiz questions correctly, you will be entitled for a lucky draw which will be carried out amongst participants who have answered that particular question correctly.
The draw of lots will be carried out during the Contest Period for the questions and a total of 5 (five) participants will be selected as winners by a random draw of lots who would each get a brand new Oneplus 5T.
A total of 10 more participants will be selected as winners and would receive Oneplus bullets (v2) earphones.